Workers reject insult of 3%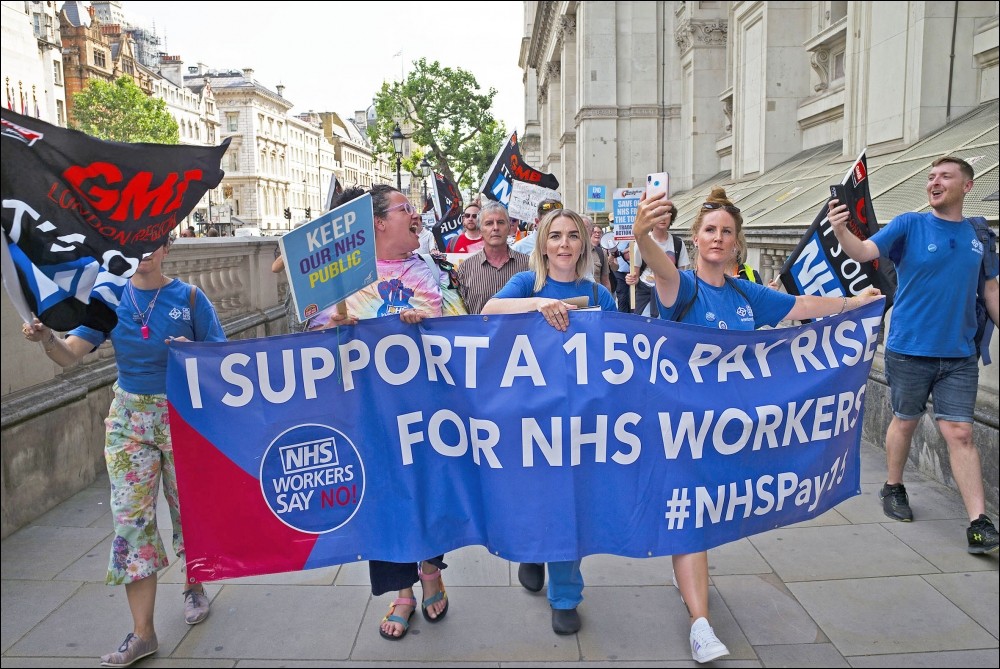 Link to this page: https://www.socialistparty.org.uk/issue/1149/33068
From The Socialist newspaper, September 29, 2021
Health workers have petitioned 800,000 people for an NHS pay rise in Downing Street Photo: Paul Mattsson (Click to enlarge)
Members of the Socialist Party in unison
It's in our wages now – the Conservative government's stingy 3% 'pay raise' for NHS workers. It is becoming increasingly clear to our colleagues in the NHS that this is indeed amounting to nothing.
With many of them also having had pension adjustments, suffered price hikes, and considering an upcoming national insurance hike, we all know how much of a kick this is in the teeth. At the same time, waiting lists are growing and the pressure on NHS workers is immense. Anger can only grow.
Even before the effects of the tax hikes and price hikes really began to be felt, members of the healthcare unions – Unison, RCN and GMB – voted overwhelmingly to reject the 3%, clearly indicating their will. to act. And it was in a situation where there was, at best, a lackluster official campaign on the part of the union leadership.
As of this writing, Unite has yet to announce the outcome of the poll. But Unite members in Wales have clearly rejected the deal, and Unite's outcome is expected to be the same as the others.
It is now essential that health unions come together to plan a coordinated campaign and polling schedule to demand a substantial wage increase.
A good start would be for the newly elected left-wing majority in Unison's National Executive Council (NEC) to organize a meeting with Unite's NEC after Sharon Graham's victory as Unite's general secretary.
Outrageously, as we reported in the Socialist, the right-wing majority in the Unison Health Services Group executive rejected calls from Socialist Party members and others to move to a poll of the United Nations. strike, accompanied by a massive campaign. Instead, they are proposing an upcoming indicative ballot, which risks diluting the mood.
Inventing as they went to get the outcome they wanted, they said that in the indicative ballot, a turnout of 45% was needed. Then, at the Unison health conference, they said emergency motions cannot be made during online conferences, ensuring that their decision cannot be overturned. None of these things are in the rulebook. The recently elected left-wing majority in Unison's NEC cannot let them get away with it.
Conservative anti-union laws demand 50% participation in a strike ballot. This means that we must launch almighty campaigns of meetings, rallies and demonstrations in the workplace. Leaflets must be issued and discussions take place district by district, canteen by canteen, office by office.
Whatever union we belong to, we also need to plan in our workplaces. Can our union branch address the other unions in our hospital? If there are right-wing movements locally to block action, workers can rally under the banner of NHS Workers Say No, for example. Can we call a meeting now to prepare for a campaign? How about calling payday protests at the main gate?
Like everyone in the public sector, NHS workers know "there are too many months at the end of the money!" But the Conservatives can be pushed back – look at the fuel crisis they find themselves in right now. We can win, but in order to do that we have to fight and prepare to strike together.
Financial appeal
The coronavirus crisis has exposed the class character of society in many ways. This clearly shows to many that it is the working class that makes society run, not the CEOs of big companies.
The results of austerity have been shown graphically as utilities struggle to cope with the crisis.
The material of the Socialist Party is more vital than ever, so we can continue to report workers fighting for better health and safety measures, against layoffs, for adequate staffing levels etc.
We must be prepared for the stormy events to come and the need to arm the labor movements with a socialist program – a program that puts the health and needs of mankind before the profits of the few.
Inevitably, during the crisis, we were not able to sell the socialist and raise funds as we normally would.
We therefore urge all our viewers to donate to our Fight Fund.
---
In The Socialist for September 29, 2021:
---
What we think

Starmer consolidates Labor's post-Corbyn Blairite transformation
---
International

German election: a change of capitalist government, but disaster for Die Linke
---
People's budgets

Save our services
---
New

Ending the profit-fueled crisis

NHS workers reject 3% pay insult

Driver shortage – an inside view

News in brief
---
Black history month

Black History Month and its relevance today
---
Climate change

CWI Rally Report Live
---
Workplace News

Election of the NEU Deputy Secretary General

Corby and Burton Latimer Weetabix engineers strike

Fight back to save Birmingham GKN jobs!

Flexibility to suit workers, not bosses

University employees withdraw from wage dispute
---
Campaigns

London tenants versus greedy entrepreneurs

Bromsgrove protests for fair NHS pay

Sabina Nessa vigil: End violence against women
---
Young people and students

Join the fight for our future

Sunak student special

More chaos in the market: York students excavate Hull

Lots of registrations for socialist students at the freshers

Youth climate protests are back
---
Home
|
The Socialist September 29, 2021 |
Join the Socialist Party
Subscribe
| Make a donation
| audio | PDF | Ebook
---