Unemployment, low wages, tuition scam, climate change … join the fight for socialism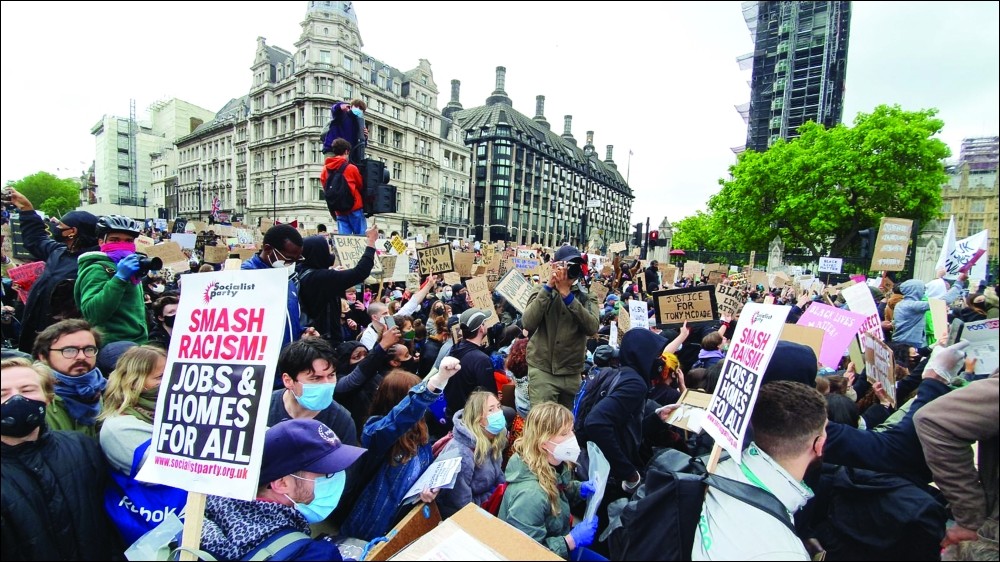 Link to this page: https://www.socialistparty.org.uk/issue/1148/33062
From The Socialist newspaper, September 22, 2021
photo: Mary Finch (Click to enlarge)
Amy Sage, Bristol North Socialist Party
This generation of young people is going to be worse than our parents. In the workplace, young people face brutal and continuous attacks on our pay, our terms and conditions. On campuses, students face exorbitant tuition and rents, class closures, and a future riddled with debt. The immediate future of the young working class looks increasingly bleak. And that depends on whether we really have a future – which is increasingly called into question with the climate crisis now well and truly upon us!
If we are to hope for a decent future, students and young workers must fight back. This is the message the Socialist Party will send to schools, colleges, universities and workplaces over the coming weeks.
The Youth Fight for Jobs day of action on Saturday October 9 will send a very clear message that young workers will not be the ones paying for the crisis caused by capitalism. Youth unemployment, underemployment, bogus training programs, exploitative contracts and damaging youth rates are burdens we are no longer prepared to bear.
Meanwhile, as academic terms begin, none of the issues that prompted students to take action through rent strikes last year have been resolved. In fact, with the discussions on lowering the tuition reimbursement threshold and course reductions already underway, the situation for students is likely to worsen. We will be attending college fairs, calling on students to join us, organize and fight for free education.
Linked to all of this is our demand for socialist change, not climate change. Intrinsic to our demand for jobs for young people is the demand for a mass program of socially useful and environmentally friendly job creation. We call for a democratically controlled public education system that prepares young people for work in sustainable industries.
Capitalists are not prepared to invest in a future for young people and do not want to take the necessary steps to solve climate change. This is why during the climate strikes on September 24 and at the COP26 in Glasgow in November, we will call on students and young people to join the fight for socialism now, in order to offer every young and every worker a decent future. If there has ever been a strong case for a socialist transformation of society, it is now.
Financial appeal
The coronavirus crisis has exposed the class character of society in many ways. This clearly shows to many that it is the working class that makes society run, not the CEOs of big companies.
The results of austerity have been shown graphically as utilities struggle to cope with the crisis.
The material of the Socialist Party is more vital than ever, so we can continue to report workers fighting for better health and safety measures, against layoffs, for adequate staffing levels etc.
We must be prepared for the stormy events to come and the need to arm the labor movements with a socialist program – a program that puts the health and needs of mankind before the profits of the few.
Inevitably, during the crisis, we were not able to sell the socialist and raise funds as we normally would.
We therefore urge all our viewers to donate to our Fight Fund.
---
In The Socialist for September 22, 2021:
---
What we think
Labor policy will not come from Labor
---
New
The working class under attack
NHS workers reject insult at 3%
Energy market chaos calls for nationalization
Conservatives cut Universal Credit: we need a union response
Interview: The bakers' union will vote on union disaffiliation
Tax evasion could exceed £ 20 billion a year
Falling life expectancy – a condemnation of capitalism
---
Characteristic
Socialists and the four-day week
---
To occupy
10 years since Occupy
---
Workplace News
Ending the education workload crisis
MOJ compensation agreement accepted – we require 10% and no strings attached
Workers at 13 colleges on strike for wages
RMT announces new strike dates in East Midlands Railway guard dispute
Stop the press: the sparks come out
Oaks Park attackers demand eleven more days
---
International
German parliamentary elections
---
Campaigns
Unemployment, low wages, tuition scam, climate change … join the fight for socialism
Yorkshire's youth struggle for jobs relaunched
West Sussex 'Disability Tax' – our protest is not going to go away
Fighting evictions in Cornwall
Leeds taxi drivers and disabled passengers unite to fight station changes
Socialist students: young people lit up when they saw us on campus
York: protest against non-binary and trans rights
---
Readers' reviews
TV Review – Help: Heartbreaking Portrait of Covid Nursing Home Crisis
Death in the mines of Gleision: ten years later, still fighting for justice
Corbyn had a social protection plan
Who pays for the climate crisis?
Famine in Madagascar
---
Home
|
The Socialist September 22, 2021 |
Join the Socialist Party
Subscribe
| Make a donation
| audio | PDF | Ebook
---