T-Mobile to send letters regarding "unauthorized access" to customer personal data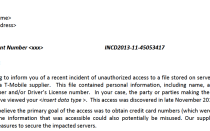 2013 has not been a great year for personal safety. Whether it's Snapchat or the NSA shenanigans, there have been more reports of account hacks than we've seen in a long time. Even Apple's own developer account was closed for a few weeks due to a security breach. It appears that T-Mobile customers have also seen their personal information compromised.
DataBreaches.net discovered a letter due to be sent to T-Mobile customers soon describing unauthorized access to its customers' personal information. According to the letter, this access to a file stored on a provider server was discovered at the end of November. The files contained information such as names, addresses, social security numbers and driver's license numbers, among other things.
As explained in the general letter, it appears that these hackers accessing the file were in fact looking for credit card numbers, which they did not obtain. Fortunately. As a gesture of goodwill, T-Mobile is also offering up to 12 months Experian ProtectMyID Elite subscription to help customers stay on top of any unauthorized access to their accounts / credit cards etc.
While we believe the primary purpose of access was to obtain credit card numbers (which were not included in the file), the information accessible could also be misused. Our supplier took immediate action to secure the affected servers.

We also provide this notice to help you take steps to protect your personal information from possible misuse. We have arranged for you to receive a full year of ProtectMyID Elite, an Experian product that offers credit monitoring capabilities and assistance for identity theft protection, including identity theft insurance. . ProtectMyID Elite is completely free for you and signing up for this program will not hurt your credit score. Follow the instructions below to activate ProtectMyID. Your registration is open until March 31, 2014.
Since this has not become a major story of millions of people affected, I imagine the number of customers affected by this is very minimal. And, while the details accessible from these files could potentially be misused, you may be able to rest a little bit more knowing that the hackers didn't get what they tried to get. Having said that, it would frustrate me to know that my contact details may have been viewed in November and only found out about it in the New Year.
To read the full letter, visit California Department of Justice website where the letter was made available for viewing.
Make sure to let us know if you receive the letter.
Going through: Data breaches