Sabrina Elba's Essay on George Floyd and Black Lives Matter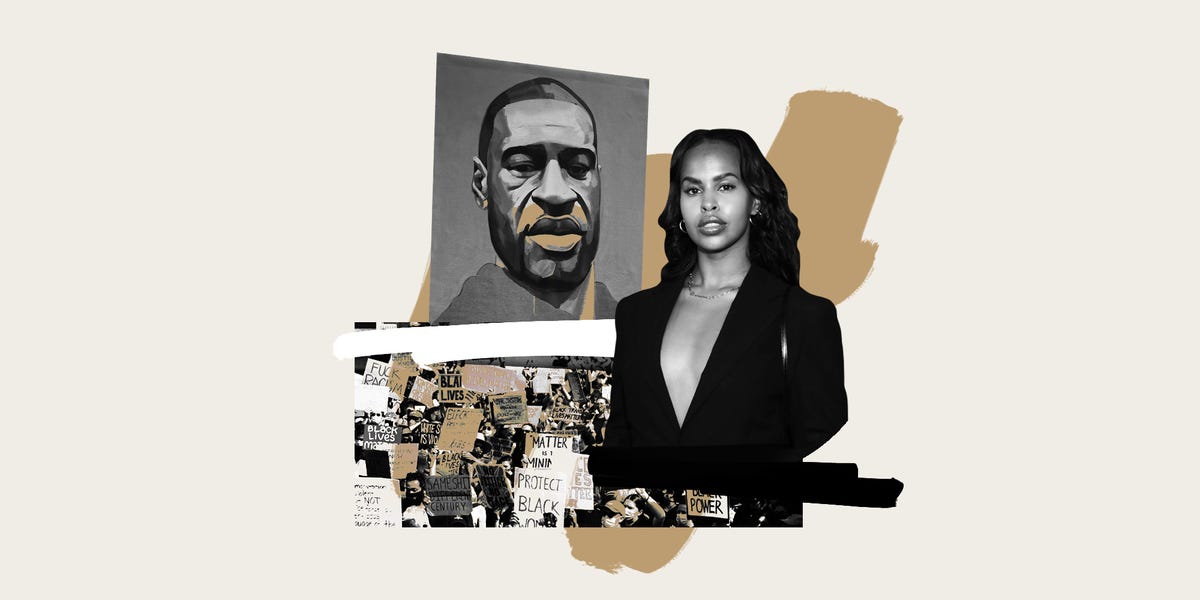 [ad_1]

I remember the first time I saw the video of George Floyd's death; pain and anger went through my whole body. Not because I was surprised or shocked, because the lynchings of black women and men happened long before I was born, but because of the helplessness I felt.
That someone put in a position to protect and safeguard chose to do the opposite and took someone's life so blatantly, so publicly. It's the same helplessness the viewers who recorded Floyds' murder must have felt and the same helplessness George must have felt calling him out in his dying moments. The type of helplessness that calls for action.
As I write this, comfortably installed by a fireplace on a winter night in Cape Town, South Africa, on the anniversary of Floyd's murder; I remember the angst outcry and protests that erupted this time a year ago were the ones that were felt not only nationally but around the world. South Africa is no stranger to the racial struggle that claimed George Floyd's life. The country's history is inextricably linked with apartheid, but it was in part the international support black South Africans received that helped end apartheid.
As then, change is only coming now because we come together as an international community and together denounce the injustices that surround us. At a time when a global pandemic is killing millions of people indiscriminately, we have recognized that we can only overcome it if we work together. Just as the virus needed an international response (for everyone to do their part), it applied to the disease of racism.
And change possesses come slowly over the past year; the guilty verdict the police officer received in George Floyd's trial and the George Floyd Justice In Policing Act passed in Congress are both steps in the right direction, but there is still a long way to go.
One of the lessons learned from the Black Lives Matter movement is that it is not enough to not be racist, we must all use our voices to be anti-racist. Silence can be seen as respect, so it is important that we all fulfill our moral obligation to those around us who are victims of the struggle. This doesn't just mean performing a performative social media post, but asking ourselves how we can help. Maintaining conversations with friends and family, making donations, being socially responsible consumers or writing to elected officials about adopting policies that will bring about change are all ways to support the movement in our actions.
As a black woman, Muslim and someone with a platform, I recognize my responsibility. I want to speak up and inspire change whenever I can. I know it is vital to continue the dialogue; meet the leaders who will listen, support black-owned businesses, volunteer, continue to donate to one of the many amazing organizations supporting change and help rally the international community to which I belong.
Not only do I want to be a part of the change seeing business owners who look like me and my husband, but as we enter the era of corporate social justice, as consumers we must not under -estimate our purchasing power and the influence it can have on pushing companies to adopt changes. I believe businesses can help leverage their influence in this fight. A business that stands for something should be more successful than a business that doesn't.
For brands, this means diversifying internal corporate structures and offering substantial funding and resources while expressing themselves. From conversations I've had with friends, it's clear that there has been a shift in the way consumers view brands they don't think support social justice. We now hold brands accountable, just like we hold ourselves accountable. There is no more room for brands to remain neutral, we now recognize the power of these organizations in the fight for change.
During the dismantling of apartheid, economic sanctions and the convictions of other international leaders played a key role in the liberation of South Africans. Likewise, the ever-growing influence of brand voices in today's world is essential to pull these levers for change. The idea that neutrality protects a brand's results is a misconception. Ben & Jerry's business model – they openly and actively supported Black Lives Matter and pushed for a police reform in the United States, which has been heralded by consumers – proves that this is not the case.
The past year has taught us that we can no longer look away. The pain of those less privileged is documented and broadcast everywhere so that we can all see it. There is no room for ignorance or inaction, we are compelled to respond. Unlocking our empathy towards others and combining it with action will be the vector of change.
Sabrina Dhowre Elba's fees for this item will be donated to BLAM UK, find out more here.
Like this article? Subscribe to our newsletter to receive more items like this straight to your inbox.
Need more inspiration, thoughtful journalism, and home beauty tips? Subscribe to ELLE's print magazine today! REGISTER HERE
[ad_2]