Funniest Memes & Tweets of 2021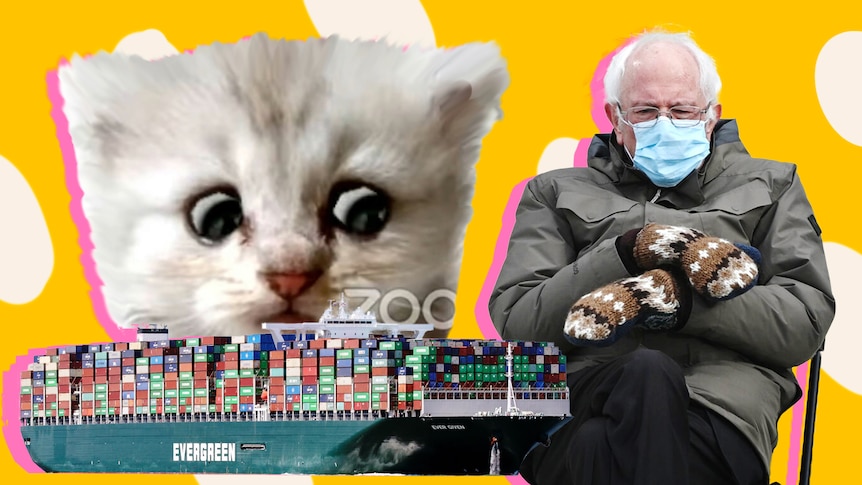 This year has been filled with uncertainties, bottlenecks and an unhealthy reliance on internet shopping.
But through it all, I had one lifeline: the Internet.
For me, silly tweets, TikTok trends, and endless puns helped brighten up a tough year.
If you look back to 2021 and only see the darkness, be sure to remember the memes as well.
January: American politics steals the show
The year started with the inauguration of Joe Biden, where Bernie Sanders' outfit morphed into an instant meme.
Loading
Her posh grandfather ended up raising $ 1.8 million for charity, after selling merchandise adorned with the viral photo.
February: "I am not a cat"
This year's viral animal sensation was a cat (or not?) That summed up the hardships of working from home.
Loading
Lawyer panic reminded me of the times I forgot to press reset after Zoom trivia, and showed up at a business meeting with my friend's double chin as a background.
March: A blockage in the Suez Canal
For a week in March, everyone stopped everything to watch the ship that got stuck.
Fortunately, Twitter was there to comment on all (in) actions.
Loading
Loading
April: Big Bird and bubbles
April was an important month in Australian news.
The trans-Tasman bubble with New Zealand reopened and there was a special celebration at the airport.
Loading
In Adelaide, a Big Bird costume was stolen and later returned.
The defeated, vacant gaze of our biggest bird summed up what we've all felt this year.
Loading
July: The Olympic Games
July brought the Tokyo Olympics that we missed in 2020.
While the games didn't have crowds, the loyal camera operators made sure to capture every spin.
Loading
For the Australians, the joy of coach Ariarne Titmus after one of her gold medals was one of the most memorable moments.
Loading
Internationally, diver and knitter Tom Daley stole the show.
Loading
August: confinement
In August, it wasn't just Tom Daley knitting.
Most of the east coast was stranded again and back into its silly little hobbies.
Loading
Loading
Loading
September: Melbourne earthquake
As if the lockdown weren't enough, Melbourne received another curve ball in September – a magnitude 5.9 earthquake.
Needless to say, the internet has been rocked.
Loading
Loading
November: Taylor's version
This year in pop culture there were some big trends.
We had Squid Game, we had #FreeBritney, and in November we had Taylor Swift's Red reissue.
For Jake Gyllenhaal, the album was not such fun news.
Loading
In December, all of Taylor's stans could compare and compete in their adoration for her via Spotify wrapped.
But for some, a year in lockdown meant their playlist wasn't quite as expected.
Loading
Loading
Everyday ABC in your inbox
Receive our newsletter for the best of ABC Everyday every week
Posted , update