Capital City Boys and Helias Girls Win Titles at Jim Marshall Invitational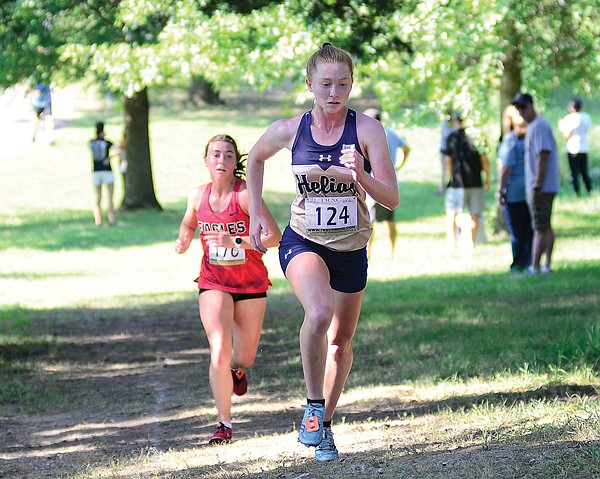 The Capital City Cavaliers and Helias Lady Crusaders won tag team titles on Saturday at the Jim Marshall Invitational at Cole County Park.
Capital City won the class boys division 4-5 with a team score of 22 points. Helias finished second with 45 points, followed by Waynesville (84) and Jefferson City (85).
Helias placed first in the Class 4-5 girls division with 24 points. Jefferson City was second with 34 points and Waynesville third with 68.
Keion Grieve of Capital City was the men's individual champion, crossing the finish line first with a time of 17:07.80. His teammate, Brock Schofield, finished second with a time of 17:42.01.
Parker Noble (fifth, 18:44.07), Colin Voss (sixth, 18:45.90) ​​and Rahi Patel (eighth, 19:06.17) also finished in the Cavaliers' top 10.
Ian Benne was one of four Helias riders to crack the top 10 in the boys race, as he took fourth place with a time of 18:39.19.
Brady Voss (seventh, 18:56.55), Harrison Knernschield (ninth, 19:13.38) and Ethan Wilson (10th, 19:15.52) also finished in the Crusaders top 10.
The Jays were led by Jackson Gerbes, who finished 12th with a time of 19:23.47. His teammate, Bradyn Maupin, was just behind in 13th place in 19:24.04.
The top 20 individuals each received a medal.
All seven Capital City runners finished in the top 15. Rocky Nelson was 11th (19:23.29) and Thomas Harlan was 15th (19:55.90) ​​to complete the Cavaliers lineup.
For Helias, Nick Ammons finished 16th (20:36.15), Julian Schmidt 19th (21:12.91) and Nick Loesch 25th (22:33.85).
Jefferson City's remaining runners in the boys' race were Joshua Conger (18th, 21:12.73), David Reeves (24th, 22:23.38) and Noah Woodruff (28th, 24:41.01).
On the girls' side, Danielle Buker of Helias was the individual champion, crossing the finish line in 21:13.42.
Capital City's Alexa Scott was second with a time of 21:49.39, while Helias' Lauren Verslues was third in 22:04.03.
Jefferson City had four runners in the top 10, led by Ella Jobe with a fourth-place time of 22:38.10. Makayla Cordes took eighth place in 23:39.06, followed by Jenna Schnipper (ninth, 23:57.31) and Adelaide Jones (10th, 24:06.91).
Helias and Capital City each had four spots in the top 15.
Kimber Noble finished sixth for the Lady Cavaliers with a time of 22:43.88. Sarah Kirby finished 12th (24:20.97) and Katherine Faherty finished 14th (24:49.00).
For Helias, Lauren Mathews placed seventh in 23:35.32. Iris Morrisey took 13th place in 24:22.32.
Avery Massman (16th, 25:40.83), Abigail Tesreau (18th, 25:59.65) and Savanna Huckstep (29:44.89) complete the Lady Crusaders line-up.
Ashlyn Williams of Jefferson City took 21st place in 27:08.21.
III
Southern Boone won the tag team titles in Class 1-3 divisions of the Jim Marshall Invitational.
The Lady Eagles finished in first place with 21 points, while the Eagles won with 45 points, three ahead of Fulton.
Southern Boone's Connor Burns won the boys' race with a time of 16:41.83, over a minute ahead of Blaine Brodersen of Stover, who took second place.
On the girls' side, Alexandra Volkart of Southern Boone finished first with a time of 20:00.75, finishing 11 seconds ahead of Riley Bryan of Smithton.
The Lady Eagles had four other runners in the top 10: Evan Mauney (third, 21:23.96), Zafaran Satterfield (fifth, 22:19.88), Elizabeth Hess (seventh, 25:41.79) and Nora Hess (eighth, 26: 17.01).
Brian Burns (third, 18:53.49) and Brian Kitch (10th, 19:43.22) added to the Eagles top 10.
The California boys finished fourth in the team standings with 107 points. Versailles finished fifth with 124 points, followed by South Callaway (sixth, 124) and Russellville (seventh, 147).
Ian Miller led California with a time of 20:01.88 for 11th place.
Dylan Dugan of South Callaway took 17th place with a time of 20:51.89, while William Taylor of Versailles was 18th in 20:54.02. Russellville was led by Ian Larrison, who took 20th place in 21:10.00 and Tipton's only runner was Riley Walters, who finished 34th in 22:34.08.
The Russellville girls posted a team score of 75 to take fourth place. Cami Grayson led the Lady Indians with a time of 24:37.95 for sixth place.
Kenzleigh Goans of California took fourth place with a time of 21:35.16, while Alexandra Spence of South Callaway was 15th in 28:14.20. Versailles' lone runner in the girls' category was Fenia Christiansen, who placed 27th in 33:57.96.