BLM Incurs Expensive Cleanup Bill After Local Pots Are Found | Western Colorado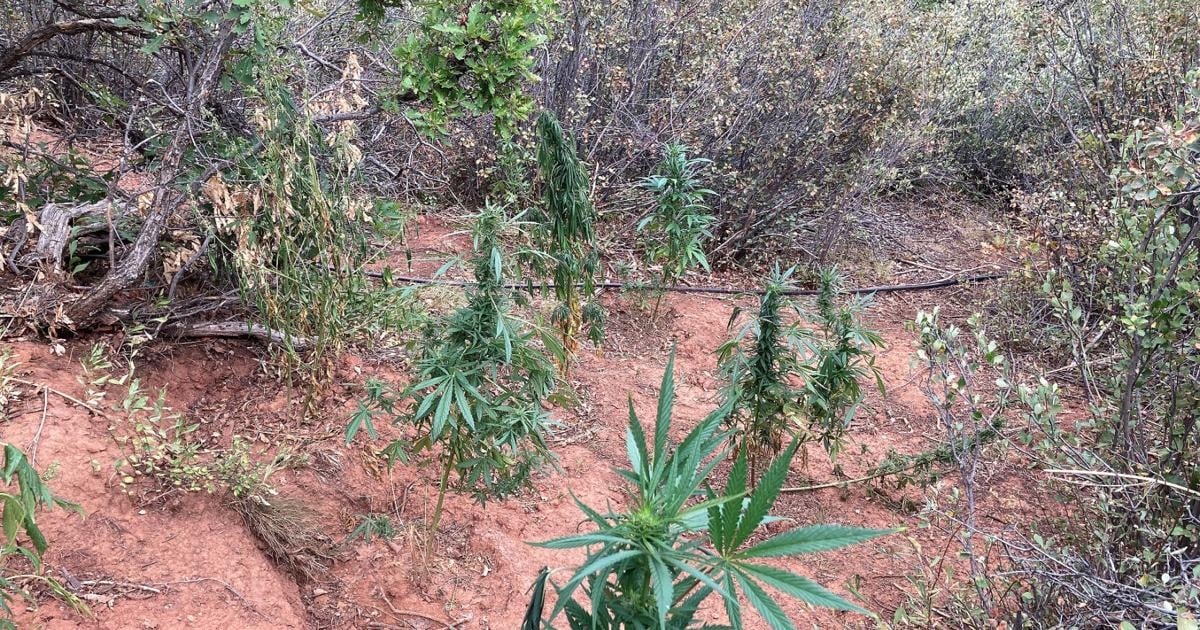 When a hunter was researching the 2020 spring turkey season in the Kannah Creek area on the slopes of Grand Mesa, he came across something that led to investigations by multiple agencies eventually spanning two counties, and resulted in seven arrests and convictions.
What investigators eventually found in one of the counties alone will cost the federal government more than $150,000 to clean up.
In early 2020, the hunter told a U.S. Forest Service special agent he found two new rolls of black plastic irrigation tubing, along with some trash and a partially eaten sweet bun, according to a prepared affidavit. by a special agent from the Bureau of Land Management.
The hunter's report was followed by a months-long investigation by entities including the BLM, US Forest Service, Drug Enforcement Administration, FBI and Colorado Bureau of Investigation into what authorities say are six sites of cultivation of marijuana on federal lands, including one in the Kannah Creek watershed and five in the nearby Whitewater Creek watershed.
On July 8, 2020, authorities arrested Huber Perez as he attempted to flee one of the sites when authorities executed a search warrant, according to the BLM affidavit, written in support of the criminal complaint against Perez.
According to other court documents, approximately 2,300 potted plants were found at the Whitewater/Kannah Creek sites. Perez later pleaded guilty in connection with the culture.
Three others escaped when authorities responded to the site. But the Mesa County investigation would lead to additional arrests in connection with another crop on federal lands about 15 miles north/northwest of Rifle.
According to information contained in plea agreement documents filed in connection with multiple individuals arrested in the gun growth case, during the Mesa County investigation, U.S. Magistrate Judge Gordon Gallagher approved a warrant GPS search for a phone associated with Aurelio Ambriz Alvarez, who had been linked to the growth of Mesa County. In June 2020, ping notifications placed the phone at the location northwest of Rifle.
Investigators, through monitoring of Alvarez's phone and other measures, including GPS trackers placed on supply vehicles, eventually found five cultivation locations in the remote area northwest of Rifle, in the Harris Reservoir area.
Investigators executed a search warrant on August 25, 2020 and made all six arrests in the gun grow case. An estimated 1,000 to 4,000 potted plants were found in each of at least two of Rifle's sites, according to advocacy materials.
As involved as the crop survey has been in both counties, cleaning up and remediating these sites is also quite a process. BLM spokesman Eric Coulter said staff found pesticides, herbicides and rodenticides at the Rifle site, and about 2,100 trees and more than 3,800 shrubs were removed to make way to culture.
The soils were disturbed as well as the hydrology of the area, and large amounts of solid waste were found, including waste and cultivation equipment supplies which included over 47,000 feet of irrigation polyline.
"Some of the disturbances included large watersheds and developed structures," Coulter said.
The Glenwood Springs Post Independent reported in an article at the time of Rifle's arrests that cultivation there involved nearly 16,000 plants in total across all sites, with an estimated black market value of $7.5 million. .
He quoted a DEA official as calling it the largest such crop in Colorado he had seen that year.
Coulter said the damage was quite extensive for what the BLM sees locally regarding illegal container crops on federal lands, but it's fairly typical to find the same types of resource damage on such crops.
But in the case of the rifle, the remote location makes cleanup a bit more expensive due to the need for a helicopter to help access the site and remove what was left behind. Coulter said that pushed the cost of the remediation above $150,000.
The BLM has awarded a contract for the removal of hazardous materials and solid waste at the Rifle site, and the work is to be completed this year. About 320 cubic meters of solid waste must be removed from sites, according to a written update that Larry Sandoval, director of the BLM's Colorado River field office, provided to the local resource advisory board in January.
RESTITUTION NOT PURSUED
Those arrested at the Rifle site have also pleaded guilty in connection with the growth, but federal prosecutors have not asked them for restitution. According to the US Attorney's office, they were assessed as unable to pay restitution.
Comments from some of those arrested for local cultivation suggest that they were little more than laborers engaged in the pot-growing projects and were not getting rich from their efforts.
According to a factual stipulation in Perez's plea agreement, he told investigators that he had been recruited to work at the grow site, his very first job growing marijuana, and that he was supposed to get paid $300 to $400 a week, but only if the pot was successfully harvested.
Alvarez told authorities he was recruited from Las Vegas to come to Colorado and grow marijuana, and that he and a cousin grew plants at the Rifle location from seed on land where the irrigation had already been installed before their arrival. He said he and his cousin were a month or two away from completing the job and had not yet been paid.
Melchor Ortiz-Banderas, another of those arrested at Rifle Grows, described himself and two others arrested at his grow site as having been nothing but workers.
Perez pleaded guilty to one federal count of conspiracy to possess with intent to distribute a mixture and substance containing marijuana. In March 2021, he was sentenced to a year and a day in federal prison by Judge Christine Arguello, along with the U.S. District of Colorado.
Alvarez also pleaded guilty to the same charge. Arguello on October 27 sentenced him to time served. On November 30, Arguello also sentenced Ortiz-Banderas to time served after pleading guilty to the same charge.
Regino Ortiz-Saguero, who was sentenced by Arguello on September 9; Martin Ortiz-Banderas, also sentenced on September 9; and Gilberto Cruz-Galvan, sentenced on January 18.
Ivan Martinez, who also pleaded guilty to the conspiracy charge, was sentenced by Arguello in December to 33 months in prison, followed by three years of probation. According to a detention order after his arrest for pot cultivation, he was convicted of a felony in 2014 for assault with a deadly weapon and, as of his arrest, had a probation warrant for non-compliance related to it. , as well as two standby driving under- influence loads.
The U.S. Attorney's Office told The Sentinel it is the office's understanding that the defendants in the Rifle case are eligible for deportation by U.S. Immigration and Customs Enforcement upon release.
DETAILED INVESTIGATION METHODS
The affidavit from the BLM special agent in the Mesa County case detailed aspects of how the investigation unfolded and also led authorities to expand on Alvarez and the rifle. Initially, the investigation included trail cameras to monitor Mesa County sites, track a suspicious vehicle, and learn that the occupants of the vehicle had purchased camping gear from a local store as well as small disposable paper cups that , depending on the agent, are commonly used. grow pot from seeds.
The vehicle, a Toyota RAV4 with a temporary California license, was also tracked to a local rental warehouse and a local hotel. On April 15, 2020, Gallagher authorized the installation of a GPS tracker on the vehicle.
CBI had also contacted local stores selling irrigation equipment to seek out people using cash to buy large quantities of black irrigation pipes. On April 22, 2020, one of the stores alerted CBI to a cash purchase of 1,500 feet of pipe of the same brand found at the Kannah Creek site. The men were in a Honda Pilot with a California license plate, and Interstate 70 license plate reader data showed the vehicle apparently arrived in Mesa County on April 19, according to the BLM agent affidavit.
A BLM ranger saw the Honda on Kannah Creek Road on April 22, 2020 and on April 29 it was spotted on Lands End Road, which branches off Kannah Creek Road.
The Honda was tracked by investigators on April 29 to a hotel in Rifle. That day, Gallagher authorized a warrant to install a GPS tracker there. He walked back and forth from Rifle to Lands End Road in the coming days, according to the affidavit, and on May 2 a man reported to the Forest Service that while walking north of Lands End Road he saw several Hispanic men carrying irrigation rollers. pipe.
The Honda was then tracked in early May to Amarillo, Texas, where it stopped at the home of a man who previously owned crops in Colorado, according to the affidavit. A Colorado State Patrol officer stopped him in the Denver area on May 6 to warn the driver about speeding, and the driver identified himself as Alvarez. He then returned to Rifle and Lands End Road the next day, then headed to Las Vegas and California.
On May 18, a DEA subpoena was served at a storage facility in Rifle, to identify documents associated with a rental agreement for two potential clients, one of them being Alvarez, according to the affidavit. The recordings included Alvarez's cell phone number, subject of the possible ping search warrant. Two days later, the warehouse manager showed investigators some trash left in the storage unit in question, which had recently been vacated.
"Waste was consistent with marijuana production, including a box for 2,000 drip irrigation tips, what appeared to be fertilizer on the floor, and packaging for boots and food. It is common for marijuana growers on public land use storage units for short-term storage of supplies to establish marijuana cultivation," the affidavit states.
On May 26, investigators surveyed the Kannah Creek grow area with telescopes and binoculars, photographed where irrigation tubes had been installed and where marijuana plants were growing, and briefly spotted a man among the plants. In total, the affidavit says illegal cultivators were seen on six different dates using knapsack sprayers, preparing holes and using cell phones at the Mesa County sites.
The affidavit also noted that in 2019, a Forest Service special agent found three illegal sites on forest land off Lands End Road. They were harvested after the 2018 growing season and "corresponded to Mexican drug trafficking and organized drug activity."