Bernie Sanders calls on Cuba to "respect the rights of the opposition" and denounces the "unilateral" US embargo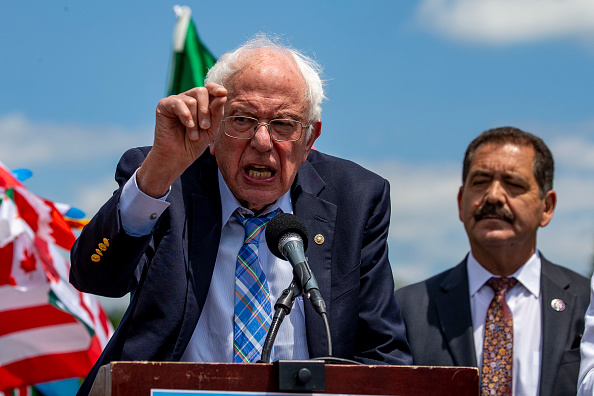 It took more than a day and a half for Bernie Sanders to respond to the protests in Cuba, but he finally broke his silence before midnight Monday. He called on the Cuban government to "respect the rights of opposition" of protesters while denigrating the "US embargo on Cuba", saying it should finally end.
Sanders, a self-proclaimed socialist and an important figure in the movement towards socialism in America, is the most prominent progressive lawmaker responding to protests in Cuba. The former presidential candidate is also the most prominent American politician to publicly declare that the decades-long embargo should be lifted.
"Everyone has the right to demonstrate and to live in a democratic society. I call on the Cuban government to respect the rights of the opposition and to refrain from all violence. It is also high time to put an end to it. the unilateral US embargo on Cuba, which has done nothing but harm, not help, the Cuban people, "Sanders tweeted late Monday evening.
Thousands of Cubans flooded the streets of their country on Sunday to demand an end to the communist government regime, an end to the food shortage, their economic crisis and the fight to contain the COVID-19 virus that still lurks in the country. islander.
Cubans from the capital Havana and as far away as Santiago chanted "libertad" in the streets, hoping for freedom after decades of Communist control and the resignation of current President Miguel Díaz-Canel. The Cuban president did not back down, but instead threatened a "revolutionary response" to the protests.
The recent protests began after a sharp drop in tourism led to the country's most severe economic crisis in the past 30 years due to the pandemic. The coronavirus not only disrupted tourism, but also caused unrest in the country for those seeking to be vaccinated, which the country is running out of supplies for.
The United States has imposed sanctions and embargoes on Cuba since the administration of Dwight Eisenhower, who first implemented them in Cuba when Fidel Castro came to power.
Last month, a convoy of Cuban diplomats traveled to the United Nations to call the ongoing US embargo an "act of war."
"To understand the essence of the blockade and the bilateral relations between Cuba and the United States, we must understand the blockade as an act of war, a policy that causes calculated damage to an entire people," said Pedro Luis Pedroso Cuesta , a Cuban who a permanent representative to the UN
"It is an expression of hostility," he continued, "which denies the Cuban people their right to self-determination, the right to build and develop the political, economic and social model that Cuba has decided to adopt. create in a sovereign way ".
Bernie Sanders said on Monday that the Cuban people would be better off without the embargo. President Biden on Monday condemned violence against the Cuban people by his own government, and former President Donald Trump said Biden must "oppose the Communist regime or – history will remember. The Cuban people deserve it. freedom and human rights! "